Recent Posts
1
« Last post by westie on 31 minutes ago »
DOOMBEN
R1. 2
R2. 1
R3. 3
R4. 5
R5. 4
R6. 8
R7. 4
R8. 1

Cheers
2
« Last post by fours on 1 hour ago »
A cynical conspiracy theorist,

would suggest that things are exactly how the powers that be want them to be.

That is have the APPEARANCE of being serious about it but also ensuring that the eventually reality means the crooks can stay.

Fours
3
« Last post by ratsack on 1 hour ago »
R1 #1
R2 #1
R3 #5
R4 #5
R5 #9
R6 #6
R7 #15
R8 #9

4
« Last post by Wenona on 1 hour ago »
They were different days that's for sure.
Rocklea was the first racecourse I ever stepped foot on. Went there with my dad ... must have been 1970 I think ...... always a thrill when we went ..... in those days no internet obviously and the TAB pool closed for off course bettors 45 minutes before the jump and the Brisbane gallops were way over on the north side - though occasionally we did make our way into the city and grab a share cab to the races from Burnett Lane. Seeing a bookmaker for the first time was probably one of the most profound things that ever happened to me behind the usual list.
5
R1#6
R2#3
R3#3
R4#9
R5#3
R6#7
R7#12
R8#7



Spudda
Pleased you all had a winning day DD didn't back it himself
Vintage is stilling counting his $'s
6
« Last post by Gintara on 2 hours ago »
Point of reference,

Tribunal surely has not got 3 years out of thin air .

If they want to fix it it is very simple - if found guilty... out for life - black and white and very simple.

Give the tribunal no wriggle room.

Fours

It's one of the troubles Fours, the industry tries to make an example yet are overruled. Then the industry continues to get pillarized for allowing the cheats to remain
Gintara, I wasn't having a go at GRNSW ....I was sympathising with them.


I was going to say gnashing their teeth maybe, not so much embarrassed.
7
What a weekend! So good to catch up with everybody including two former forumites in El Zoro & Chuggers. ( although I may have talk to him about getting him to the airport for an early morning flights back to Syd on a Sunday morning After a big day at the track! ) fabulous weekend all round with some big winners. I finished bridesmaid in the tipping comp on the day 😡 But we all had a great time. Even if DD did steer us clear of his horse which won & paid well Fri arvo


1-5
2-1
3-3
4-9
5-7
6-6 good luck Taity with Brenda however
7-4
8-1

PS check the rail position today 🤔
8
1. 4
2. 1
3. 1
4. 9
5. 9
6. 8
7. 4
8. 7

Media
1. 5
2. 1
3. 6
4. 9
5. 4
6. 8
7. 4
8. 1

9
« Last post by Arsenal on 3 hours ago »
Unless the Rocklea Club's appeal to the RAT ,heard Monday 28 July,is upheld giving the club a chance to prove it is a viable concern the Rocklea track will fade into the sunset after 54 years of operation .

There was a massive crowd in attendance on the scheduled last day last Saturday and this is a video of some of the action .

http://www.youtube.com/watch?v=v2XyBOIsxTE


There is more coverage on the Brisbane racing link on the Just Racing website.

The above is the end of harness racing at Rocklea almost 10 years ago

www.justracing.com.au

Recently I was fortunate to see a booklet of some 20 pages produced by the forerunner of the Metropolitan Harness Racing Club Rocklea which raced as the "Rocklea Trotting Club" from 1957 to 1966...... the booklet was produced after the club closed down for a period and it's very interesting to read the trials and tribulations the club went through the personalities pictured and their often difficult relationship with their landlord the Rocklea Show Society the owners of the grounds. The Secretary was J F McGill formerly a stipendiary steward with the QTC while the President was Norm Duce. I knew Norm who played poker with my parents at my former childhood home in West End at 18 Crowther St...... Norm raced a couple of good horses that I remember Dowborough was one the other Fort William both trained by Fred Best......I can still recall Norm's colours Blue & White Halves Red sleeves....once I remember how to do it I'll post selected pages from the booklet starting with the cover .which has the logo of a horse and driver without hopples which was also used by the MHRC on our racebooks.....more to come.

Giddy Up
Finally Success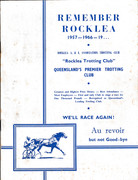 10
Media takes Tuesday.

Media 238
SW 230
Westie 213
RH 174
Rat 163
PP 148
Rat 101
JWH 96

320 OUT

Media 420
PP 314
Rat 305
Westie 301
RH 283
SW 257
BMac 248
JWH 179