Recent Posts
1
Yeah, he scrorched out of the barriers that night. I reckon Village Kid's Inter in Brisbane was a faster start though.


Reichman did break the Australian mile record that night.


But I still think Quinnie had a better sprint.


Better than Popular Alm's too. Poppy was more a stayer than a sprinter though he could go a bit.
2
« Last post by PoisonPen7 on 2019-Feb-22, 09:54 PM »
The Autumn Sun inoculated for Royal Ascot

Superstar colt The Autumn Sun has been inoculated for a possible trip to Royal Ascot, as part-owner John Messara conceded Winx would be "nearly impossible to beat" in her swansong autumn campaign.

Chris Waller was keen on a trip to Royal Ascot from the moment The Autumn Sun blitzed his rivals in the Caulfield Guineas last spring – Waller said he missed taking on the world with Winx and he wouldn't miss the chance with The Autumn Sun.

And now Arrowfield Stud boss John Messara – who owns 50 percent of The Autumn Sun – has revealed the colt has been inoculated for a possible mission to race in front of the Queen at Royal Ascot.

The Queen Anne Stakes – a 1600m race at Royal Ascot in June previously touted as a possible target for Winx – could be a potential target.

However Messara also indicated he was far from convinced about the merits of an overseas trip for the valuable colt.

"He (Chris Waller) has more than flagged it (Royal Ascot) – he has inoculated him," Messara said, on Sky Racing's The Road To The Championships TV show.

"I have always wanted to go over there.

"I'm not certain this is the horse we can do it with because he is potentially so valuable.

"We have had to pay a huge amount to buy into him, I'd be worried about the dangers, not of getting beaten so much, but of sickness, travel sickness that sort of thing happening

"He is our replacement for the great Redoute's Choice who is a rising 22-year-old this year – I've got to protect him (The Autumn Sun) in any way that I can.

"I went into him with a view that he would be a stallion for Arrowfield in the next short while.

"Having said that, if he goes through and is very dominant it is attractive to carry on a bit."

One plus with an overseas campaign for The Autumn Sun is that a winning mission would boost his standing in the northern hemisphere and make him an even more valuable proposition as a dual-hemisphere stallion.
http://cwallerracing.com/the-autumn-sun-inoculated-for-royal-ascot/
3
« Last post by Peter Mair on 2019-Feb-22, 09:30 PM »


Please add 'Friday night racing' to the list of 'no-go' areas for punters

.......at the Vale of Tears tonight both quadrellas 'paid' some $5,000 ............... and one would be hard pressed to find ordinary on-course and off course punters who finished the night feeling it was time and money well spent.

When the main beneficiaries of current racing admin are corporates and syndicates, it is time to call out RVL.


4
« Last post by Peter Mair on 2019-Feb-22, 09:24 PM »



RVL went from 'best' to 'worst'

Australian racing surely needs a royal commission to assess how RVL went from 'best' to 'worst' and is apparently only digging deeper the hole of incompetence into which it seems determined to reside.

No star nothing is evidence.
5
« Last post by ianb on 2019-Feb-22, 08:14 PM »
I agree this year is a farce but there is no point in making it a handicap because we already have the Doncaster. There were enough good horses nominated to make it one of the very best races of the season - it's just so few of them will get to run.

There are 6 horses out of the 11 horses, in the field so far, who simply don't merit being in the race.

I read somewhere that RV want this to be a Group1 race,

If that's the case the rules had better change next year..


6
« Last post by Arsenal on 2019-Feb-22, 06:52 PM »
Ben Currie resolution a step closer after Supreme Court review findings
3 hours ago by AAP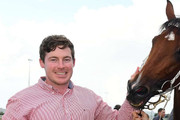 Queensland trainer Ben CurrieImage: News Corp

A resolution to outstanding charges against Toowoomba trainer Ben Currie has moved a step closer after a judicial review finding in Brisbane.

In the Supreme Court on Friday, Justice Peter Flanagan was originally listed to consider several legal issues which had delayed the hearing into 28 charges Currie faced after a raid on his stables in April.

After agreement between the parties the only issue to be resolved was whether Currie could have legal representation at his hearing on the charges.

Justice Flanagan found stewards should review their decision barring Currie from having legal representation and decide it by correct law.

Currie's barrister Jim Murdoch QC said the decision opened the way for Currie to be represented at an inquiry.

Queensland Racing Integrity Commission Commissioner Ross Barnett confirmed the matter would now revert to stewards for further consideration.

"A Supreme Court ruling determined that the decision on whether legal representation is permitted under the Rules of Racing has reverted that decision back to the discretion of the stewards," he said.

"The court found that the rules do not prohibit Currie from requesting legal representation and that request would be at the discretion of the stewards."

Justice Flanagan's reasons are expected to be available next week.

Currie was able to get a stay on a suspension imposed in a show cause hearing on other unrelated animal cruelty charges on Thursday.

He can train until five days after an internal review of the show cause hearing suspension decision..

Barnett confirmed the internal review would be completed within 20 business days of the decision being made last Monday.


https://www.punters.com.au/news/ben-currie-resolution-a-step-closer_177525/

hhttps://www.qric.qld.gov.au/wp-content/uploads/2019/02/QRIC-Media-Release_-Court-rules-in-favour-of-Stewards-discretion.pdfttps://www.punters.com.au/news/ben-currie-resolution-a-step-closer_177525/
ENDS

IMO It was a no brainer with only one question to be decided it could have been resolved without this expense had stewards exercised discretion when the request was made.

That's the preliminary over now the main event is ready to begin.

Giddy Up
7
« Last post by westie on 2019-Feb-22, 04:58 PM »
Probably get the big fat 0 today

RH
Your doing just fine, will take a good effort to dislodge this week. I was tossing up with the 8 & 10 in R6 and went with my BB #8.
8
« Last post by westie on 2019-Feb-22, 04:53 PM »
MOONEE VALLEY
R1. 5
R2. 3
R3. 8
R4. 5
R5. 5
R6. 8
R7.11
R8.13

Cheers
9
« Last post by Gintara on 2019-Feb-22, 04:29 PM »


However the votes are in and the decisions have been made. Rules may change next year but this is only the first year so it could improve.

This year is a farce but I don't think the concept is bad, just need some tweeting where the BM is raised if they want to stay WFA to get something that will be close to 'All Star' or they could go to handicap where you'd get a real spread of the weights
10
« Last post by Racehorses on 2019-Feb-22, 12:06 PM »
Probably get the big fat 0 today
R1 #2
R2 #1
R3 #2
R4 #5
R5 #1
R6 #10
R7 #1
R8 #2