Recent Posts
2
« Last post by sobig on 1 hour ago »
Nothing to stop an owner approaching a slot holder
3
No horse no matter its age, sex or where it was sold is prohibited from running in the Everest.

But its entry is determined by the slot holders who approach owners to nominate, an owner does not enter the horse before offered a slot by a slot holder.
4

How many of the 'crowd' on mountain day had free tickets?

I am thinking the only 'old stand' at Randwick is the 'members stand' and the following comment in the SMH on Monday might imply that 'the crowd' was inflated by a large distribution of free and guest passes to this stand.

It is a reasonable expectation that media writers reporting a 'full house' might inquire and report on the role that free-tickets may have played.

If you looked up at the old stand at Randwick on Saturday, it was full before race four, which just goes to show how engaged the crowd was with the races.
5
« Last post by Arsenal on 2 hours ago »
Animal cruelty charges, Pine Mountain

Three people have been charged with animal cruelty following investigations by detectives from the Racing Crime Squad and the Queensland Racing Integrity Commission (QRIC) into the treatment of a thoroughbred mare at a Pine Mountain property.

The 4-year-old retired racehorse was inspected at the property on October 4 following information provided to the QRIC by a member of the public and was found to be severely underweight and neglected.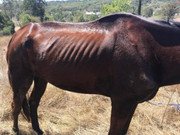 Ongoing investigations have resulted in thee people, a 20-year woman, a 48-year old man and a 51-year old woman, being issued a Notice To Appear for one count each of animal cruelty under the Animal Care and Protection Act 2001.

They are due to appear Ipswich Magistrates Court on November 6.
One of the men charged is the registered owner of the thoroughbred, and also a licensed stable hand.
It is further alleged that during investigations into the welfare of the thoroughbred, the QIRC received information from a person falsely claiming to be the registered owner.
This resulted in a 33-year old female licensed stable hand being charged with the offence of giving false or misleading information to an authorised officer under the Racing Integrity Act 2016.
She is due to appear before the Sandgate Magistrates Court on October 25.

This joint investigation is a further demonstration of the seriousness of which reports of animal welfare concerns are held and dealt with by QRIC to safeguard the welfare of animals and ensure the integrity of the racing industry in Queensland.


If you have information for police, contact Policelink on 131 444 or provide information using the online form 24hrs per day.

You can report information about crime anonymously to Crime Stoppers, a registered charity and community volunteer organisation, by calling 1800 333 000 or via crimestoppersqld.com.au 24hrs per day.
Quote this reference number: QP1801847649
Categories
Metropolitan Brisbane, Southern Region

Giddy Up
6
If these two Japanese run 1,2 it means an ordinary field.
7
I had 20% of the Melbourne quaddie - wonder how I'll spend my $20 plus change
8
Keep tipping mate.
The comp shows i have plenty of losers as well
9
JWH wins today.

JWH 239
RH 196
BMac 151
Westie 148
Rat 117
Spudda 75
Media 75
SW 57
PP 44

440 out

BMac 740
Rat 593
Spudda 500
RH 392
JWH 350
Media 320
PP 314
Westie 296
SW 202

10
Moe Cup Thursday (time of the year means many Victoria race days ahead)