Recent Posts
21
« Last post by Peter Mair on 2019-Mar-19, 08:49 AM »


Please remind me of the question?

23
« Last post by ratsack on 2019-Mar-19, 07:57 AM »
R1 #5
R2 #12
R3 #3
R4 #3
R5 #7
R6 #8
R7 #10
R8 #7

24
« Last post by Brian Mc on 2019-Mar-19, 06:58 AM »
And here's an alternate set to continue my poor run

Bendigo Mar 19
R1 #7
R2 #13
R3 #10
R4 #4
R5 #4
R6 #3
R7 #6
R8 #7

26
« Last post by Arsenal on 2019-Mar-18, 09:24 PM »
Trainer Ben Currie stood down again
Posted by: AAP+ at 5:46pm on 18/3/2019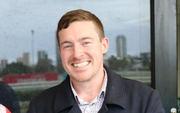 IMAGE: DARREN WINNINGHAM

Ben Currie will seek an extension of a stay so he can continue training after an internal review reaffirmed a decision to stand him down pending an inquiry into jigger charges against him.

Queensland's leading trainer, Currie, who trained five winners at the weekend to take him to 118 for the season, was stood down from training after stewards charged him with seven offences including use of a jigger.

He sought an internal review of the decision and he went to the Queensland Civil and Administrative Tribunal seeking a stay.

On February 20, Currie was granted a stay which was to remain in place for five days after the internal review was determined.

A Queensland Racing Integrity Commission deputy chairman Mark Ainsworth confirmed on Monday the internal review had ruled against Currie and the order to stand him down from training would be reinstated.

Currie will now seek an extension of the stay order in QCAT, probably later this week.

In an 11-page judgment, the internal reviewer Kane Ashby said he agreed all matters should be judged on their merits.

He paid particular attention to the text messages which formed the basis of the charges and noted in one Currie had used the term "harped up".

"The reviewer acknowledges the seriousness of the charges, in particular the alleged use or instruction to use an electric or electronic apparatus to a horse which is designed to deliver an electric shock," Ashby said.

"Notwithstanding, the reviewer acknowledges such charges are yet to be proven and the subject review is particular to the decision to suspend Currie's trainer's licence.

"In carefully considering the evidence and in particular Currie's failure to provide any direct evidence or explanation for the term 'harped up' as noted in the facts relied upon, (the reviewer) finds the continued participation of Currie poses an unacceptable risk to, prejudice or undermine the image, interests or integrity of racing.

"Accordingly, the reviewer is satisfied the decision to suspend Currie's trainer's licence is proven."

Currie has also been training for nine months on a separate QCAT order arising from a series of other charges.

Stewards held a closed inquiry last week to hear 14 of those charges which arose from a raid on his Toowoomba stables in April last year.

A further 14 charges stemming from that raid will be heard next week.

Stewards will hear a further four charges involving positive swabs and the seven charges which include the use of a jigger next month.

A decision on all charges is expected late in April.

To further complicate matters Currie is banned from the Brisbane Racing Club's Eagle Farm and Doomben meetings but can attend other tracks, as he did at the Gold Coast on Saturday.
ENDS

https://www.qric.qld.gov.au/wp-content/uploads/2019/03/INTERNAL-REVIEW-DECISION-BENJAMIN-CURRIE-1.pdf

Reading the reasons for decisions which include direct quotes of Jim Murdoch's submissions it was a very strongly contested hearing which will undoubtedly go to QCAT for determination.....the Principal Racing Authority is relied on to authorise the stewards to enforce the Rules ...unless I'm mistaken RQ is the PRA here although the integrity function is the responsibility of QRIC following the separation of powers following the MacSporran report.

Giddy Up
27
« Last post by Peter Mair on 2019-Mar-18, 09:01 PM »

Modest punters would not be happy


...........even the wily one must be having second thoughts about 'inflated fields' delivering rough results and providing the cover for one smoked in, to run well, in defiance of the form guide.

I can understand me missing clues in the form guide but long-odds winners suggest almost all others missed read it also.
28
On Rats advice make it Bendigo Tuesday.
29
« Last post by ratsack on 2019-Mar-18, 08:21 PM »
thanks team , she ran a nice 2nd

hard to place now days as she isn't good enough to win in the provincial area but gets 61kegs in the bush

some got $7 the place today so worth the punt ( although the 4ths etc have been costly lately)

SW Murwillumbah looks a bit dodgie ? H10 this morning and 10 mm today

maybe both tips for those that want to go early ?
cheers Ray

30
« Last post by Jeunes on 2019-Mar-18, 06:44 PM »
Imagine what price The Autumn Sun could stand for with a 1.6 lengths 3rd to Winx ?

I am guessing Hartnell if not Autumn Sun.