Recent Posts
1
« Last post by westie on 4 hours ago »
BALLARAT - Synthetic
R1. 6
R2. 8
R3.10
R4.11
R5. 7
R6. 4
R7. 2
R8. 8

Cheers

MEDIA
R1. 3
R2. 1
R3.10
R4.11
R5.13
R6. 3
R7. 7
R8. 4
2
R1 #12
R2 #9
R3 #10
R4 #10
R5 #6
R6 #4
R7 #7
R8 #4


3
1. 11
2. 11
3. 1
4. 1
5. 7
6. 3
7. 11
8. 3


4
1-3
2-9
3-10
4-10
5-2
6-4
7-7
8-4


5
« Last post by nemisis on 6 hours ago »
Maybe off topic but probably relevant.
In my days around stables we had one of the last of the Le Filou breed.
Martu probably looked a lot like the famous picture of Le Filou, albeit the gelded version.
He was recuperating from injuries and was in a paddock on his own. Whenever I had to throw some hay in for him, once he caught sight of me he would charge at me with ears right back, all his teeth fully exposed and spin around kicking with both legs.....what a fearsome sight!
I wondered why anyone would persevere with him let alone try to handle him.
It became very apparent why people do persevere when he eventually did hit the racetrack as a 5 or 6 yr old.....he had high class and it was obvious.
Anyway all the class matters for little, if the body can't stand up to training and Martu only had 5 or 6 starts for 2 wins and 3 placings.....memory a bit vague.
Wonder where Marty ended up?
6
« Last post by Brian Mc on 9 hours ago »
Ballarat June 15
R1 #3
R2 #1
R3 #10
R4 #11
R5 #13
R6 #7
R7 #2
R8 #4

7
« Last post by Arsenal on 2021-Jun-14, 09:10 PM »
Horse disqualified at Warwick Farm: Star jockey weighs in light
Boom apprentice Reece Jones. Boom apprentice Reece Jones.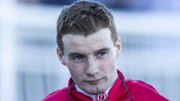 By Ray Thomas
03:14pm • 14 June 2021
2
Comments
Boom apprentice Reece Jones has experienced racing's rollercoaster of emotions over the long weekend when his winning momentum was temporarily halted under unusual circumstances at Warwick Farm on Monday.

Jones rode a four-timer at Royal Randwick last Saturday but was brought back down to earth when he weighed in light after riding first-over-the-line Admit It in the XXXX Handicap (2400m).

But the young apprentice was found to be the innocent party in the Warwick Farm incident with Racing NSW stewards determining it was trainer Graham Brown's responsibility to ensure Admit It carried the correct weight in the race.

"A lead-bag was left off and the horse weighed in 1.4kg light,'' revealed Racing NSW chief steward Marc Van Gestel.

Under the circumstances, stewards had no alternative but to disqualify Admit It, one of the favourites for the race at $5.50. The stewards inquiry concluded later in the day and confirmed the fault lay with trainer Brown and he was subsequently fined $5000.

Stewards revised the placings with second-over-the-line Brown Thomas ($12) declared the winner from Kaapfever and Terwilliker.

TAB announced it would pay out on both the disqualified Admit It and Brown Thomas as winners of the race (TAB Fixed Odds only, including Multis).

Jones then put the incident behind him with a clever front-running on hot favourite Kibosh to win the China Horse Club Handicap (1600m) while he also got the Gary Portelli-trained The Empire over the line first.


Giddy Up
8
« Last post by Peter Mair on 2021-Jun-14, 08:40 PM »


THE GAME'S OVER 'TIL MID-SEPTEMBER

........................ addicts, like myself, will continue to bet through the months of another 'winter of discontent' ................. hopefully we will not lose much ............. preferably we will 'go to the movies'...... or do anything else ................. to avoid feeding money to inflated-field adminidstartors in thrall to corporates, and syndicates, routinely milking addicts and the 'pools of misery' they will fund.

.................. let us keep track of this milking of the money most of us contribute.
9
« Last post by ratsack on 2021-Jun-14, 08:23 PM »
Tuesday: Ballarat

Golf tomorrow and will have a couple of bets after
My numbers for Scone , if anyone is interested .
Use them for the comp thanks . I Won't waste my time on synthetic tracks
R1#6
R2#3
R3#2
R4#2
R5#3
R6#11
R7#6
R8#7
10
« Last post by Arsenal on 2021-Jun-14, 07:29 PM »
https://qric.qld.gov.au/wp-content/uploads/2021/06/Stewards-Report-Cody-Collis.pdf

Fined $500

https://qric.qld.gov.au/wp-content/uploads/2021/06/Stewards-Report-Joel-Pengilly.pdf

Verbal altercation with a patron fined $500 $250 Suspended for 2years.

The particulars of the charge being that near the stabling area at the Gold Coast Turf Club on Saturday 22ndMay 2021, Mr Pengilly did demonstrate misconduct by way of an exchange with a patron which escalated and led to Mr Pengilly using inappropriate language towards that patron.

He had two runners on the day the first finished midfield..the second Side Kiss won the last race.

Strange that some mug punter would get into a argument to provoke the trainer tor respond and use inappropriate language maybe he told him to
off


https://qric.qld.gov.au/wp-content/uploads/2021/06/Stewards-Report-Rick-Nelson.pdf
Trainer/ jockey Rick Nelson out of business until September

Tested positive to a banned substance disqualified for 4 months allowed 7 days time to arrange transfer of his horses.

ENDS

Giddy Up